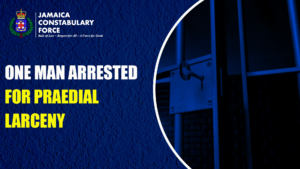 One man is in custody following the recovery of a cow on the Vauxhall main road in Maggotty, St. Elizabeth on Thursday, August 24.
Reports from the Maggotty Police are that about 12:30 a.m., a team of officers acting on intelligence intercepted one Mazda Premacy motorcar in the area. The vehicle and the occupant were searched and the cow found. The driver of the vehicle was unable to account for the animal hence he was subsequently arrested.
Acting Superintendent of Police Coleridge Minto in a statement highlighted that "Praedial Larceny has been a challenge in this parish, hence the Police will be strengthening our partnership with the farming communities to apprehend all perpetrators and bring praedial larceny under control in the St. Elizabeth Division."
Superintendent Minto (Acting) stated that, "We will not rest until our farming stakeholders have received the justice they deserve in this parish."
He is appealing to anyone who lost cattle to visit the Maggotty Police Station or the Black River Police Station to identify their animal; using a valid form of identification.