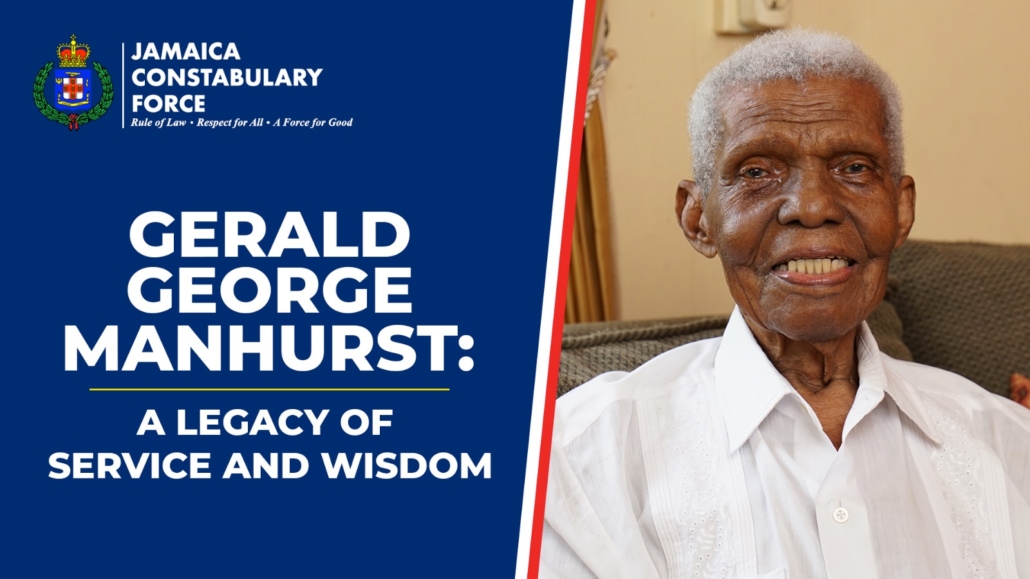 As the world celebrates the 'International Day of Older Persons' on October 1 — a day designated by the United Nations to honour the contributions of our senior citizens — we shine a spotlight on a remarkable figure: Mr. Gerald George Manhurst.
Not only is he the Jamaica Constabulary Force's (JCF) eldest living retiree (at the age of 98 years), but his life story offers a treasure trove of wisdom, resilience, and inspiration.
UN Secretary General, Antonio Guterres is quoted as saying that "Elderly persons are an invaluable source of knowledge and experience, with much to contribute towards peace, sustainable development and the protection of our planet." With this in mind, it is often valuable to seek wise counsel of the elders who have served in years past. Having dedicated 15 pivotal years to the Island Special Constabulary Force (ISCF) from 1965 to 1980, Manhurst's service extended beyond the rank of Commander.
What inspired this transition to the ISCF after serving as an aircraftman in World War II?
"It was the allure of the war and a burning desire to serve Jamaica," Manhurst recalls. Yet, his memories of training days also resonate with tales of hardship. "New recruits trained without proper uniforms, using their civilian clothes. We stood on the parade square thrice daily. And all this? Without a dime in allowance. It was pure patriotism."
Manhurst emphasizes that the very essence of effective policing, during his time, was grounded in genuine community engagement. "Trust was our strongest weapon," he asserts. Reflecting on the JCF's leadership back then, he fondly remembers Inspector General Owen F. Right and hails retired Senior Superintendent Reneto Adams as a beacon in crime prevention. His belief is that fostering trust within communities made crime more manageable.
On the nuances of effective communication, Manhurst offers an insightful perspective. He suggests that officers should adopt the phrase "based on intelligence" rather than "based on information received" to protect those seen communicating with the police from being branded as informants.
Yet, beyond his illustrious career, Manhurst's beliefs about health and longevity are truly inspiring. "I owe my long life to clean living. I've never smoked, haven't touched alcohol, and three years ago, I embraced a meat-free diet," he shares. As he approaches his 99th birthday, his gratitude remains unwavering: "Every moment is a blessing from the Almighty."
So, as we honour our elderly on this special day, let's remember the words that have guided Manhurst throughout his life: "Help the old if you are young, aid the weak if you are strong, admit fault if you are wrong, and always mind your tongue." In celebrating Mr. Gerald George Manhurst, we also pay tribute to the many unsung heroes whose dedication and resilience have enriched our world.