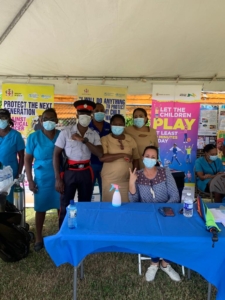 February 19, 2022 – The Jamaica Constabulary Force (JCF) continues to emphasize its commitment to the detection and prevention of domestic violence through the staging of Domestic Violence Intervention (DVI) Pop-Up Events. 
The JCF presently has 10 DVI Centers –  four located in Kingston and St. Thomas, while St. Catherine, Clarendon, St. Elizabeth, Westmoreland, St. Ann, and St. Mary each has one – that offers the atmosphere where persons can speak frankly and in confidence with trained counsellors, and access their care and guidance with the requisite follow-ups and referrals.
On Friday, February 19, 2022, members of the Community Safety and Security Branch hosted a Domestic Violence Pop-Up Clinic at the New Market Oval District in the parish of Westmoreland. 
They partnered with Stake Holders from various entities to include: the Parish Substance Abuse Centre, Tetley (Caribbean Dreams), The Health Centre, The Correctional Centre, The Peace Management Unit, The Heart Trust NTA, and the Jamaica Aids Support Team. Approximately one hundred and fifty (150) persons from the community were present. 
 The community members were sensitized on various sections of the Domestic Violence Act whilst being engaged by members of the JCF Band. Prizes were offered to community members who actively participated in various games and question/answer sessions.