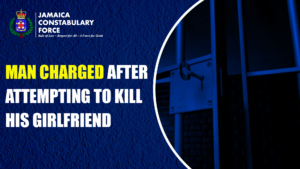 Twenty-year-old Mario Lewis otherwise called 'Gizmo', of Winchester District, Golden Grove, St. Thomas was arrested and charged with Wounding with Intent  after attempting to kill his girlfriend at his home on Tuesday, July 18.
Reports from the Golden Grove Police are that about 2:00 p.m., an argument developed between Lewis and his girlfriend about infidelity. A struggle ensued and Lewis used a knife to inflict a stab wound to the woman's neck. She was taken to hospital, where she was admitted in stable condition.
Lewis was apprehended on Saturday, August 19, in Winchester District, St. Thomas and was charged on Wednesday, August 23.
His court date is being finalised.