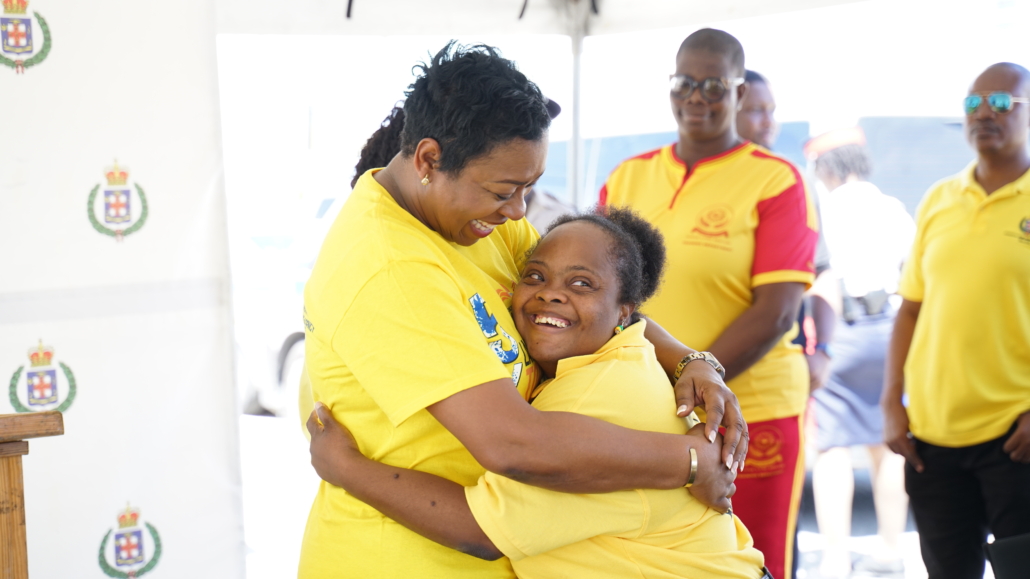 Raising a child can be challenging; when the child has special needs, those challenges multiply. For Mrs. Eunice Lawrence, a caregiver to an autistic grandchild, the struggle is all too real.
Mrs. Lawrence's 18-year-old granddaughter, Dayna Fogo, was diagnosed with Angelman Syndrome and Autism Spectrum Disorder (ASD) 15 years ago. The aftermath, as Mrs. Lawrence explains, left her family in uncharted waters. "I did not know much about it. I had to read up because enough information was not given; it is a rare illness and not much was known about it at that time," she shared, noting little has changed over the years regarding available information.
Raising Dayna introduced unforeseen hardships for the family, from financial struggles and difficulties in communication, to stigmatisation. These issues have forced Mrs. Lawrence to resign from work to care for Dayna who "cannot differentiate between safety and danger." She laments, "Work is a thing of the past for me as I must constantly monitor her."
The financial burden is made worse by a lack of appropriate facilities for childcare, education and social interaction. Dayna had a brief educational stint but has since remained homebound. Mrs. Lawrence believes societal intolerance towards the intellectually challenged is high and finds it safer to keep Dayna at home. "Not everyone is kind, sensitive, or accepting and it is better that she stays home where my family and I can take good care of her," she asserts.
The Law Enforcement Torch Run is Borne
While efforts to seek help have been tireless, Mrs. Lawrence feels Jamaica falls short in providing care for individuals like Dayna. Assistance for autistic persons remains scarce and where available, is often unaffordable for the majority of families. Recalling Dayna's mother's experience overseas, she marvelled, "They are doing so much there to help persons like her."
The experience of Mrs. Eunice Lawrence and her family is similar to those of many families who raise children with special needs, even in countries outside of Jamaica. Stories like Dayna's spurred six police officers from Wichita, Kansas in the United States of America into action in 1981. Using the spring pad of Special Olympics, they brought a message of inclusion and recognition for persons with intellectual disabilities to their communities. Today, that movement is an international powerhouse known as the Law Enforcement Torch Run for Special Olympics (LETR).
"What started in 1981…as a flicker of hope for Special Olympics has now become a roaring flame of stability for Special Olympics athletes worldwide…we provide opportunities for athletes to empower and transform themselves, their communities and the world," says LETR Founder, retired Chief of Police Richard LaMunyon.
Locally, Jamaica's law enforcement community—led by the Jamaica Constabulary Force—comes together every summer to support the global initiative and make a difference for families like Mrs. Lawrence's. The local arm of the LETR has been active since 1981 and has raised tens of millions of dollars to date.
"The JCF is passionate about its support of the LETR and the Intellectually Challenged community. As law enforcers, a part of our job is to protect the vulnerable in the society, and the LETR provides us a meaningful opportunity to help keep safe and positively impact the lives of these youngsters," said National Director of the LETR, Deputy Superintendent Palmer.
In 2023—the first post-COVID fundraising season—the local LETR council once again joined forces with the Jamaica Defence Force, the Jamaica Fire Brigade, the Department of Correctional Services, the Jamaica Customs Agency, and the Passport Immigration and Citizenship Agency. They set themselves an ambitious target of JM $3,000,000 and kicked off the season with the Law Enforcement Divisional Relay in the Kingston Eastern Division on Monday, June 19.
Flame of Hope Divisional Relay
The message of inclusion was taken across the island, through Paul Bogle's and Tacky's country, to the lush greenery of the garden parish, then through the home of the fastest man on earth. The flame of hope then made its way into the tourism mecca of Jamaica, from St. James to Hanover and then moved across the bread basket parish. From there, it was on to the cool hills of Manchester and then to the home of best agricultural show in the island. It then made its way back to the bustling cities of Kingston and St. Andrew where it was time for the signature event of the LETR fundraising season—the 5K run/walk. Almost 2000 runners and walkers descended on the Police Officer's Club in St. Andrew on Sunday, July 16. At the end of it, Deputy Superintendent of Police (DSP) Natalie Palmer says the JM $3,000,000 target was reached.
"We are grateful for all the support from our fellow law enforcement partners, sponsors, and the general public that helped us to realise our target of three million dollars, and we look forward to joining forces once again next year for this amazing cause," she said.
Hope Persists
For Mrs. Eunice Lawrence, the success of the most recent LETR run/walk provides hope for the future. She remains optimistic for days to come, when Dayna and others like her are given more opportunities to thrive.
"That's why we do what we do," DSP Palmer says. "We want every family like Dayna's to know that even as the struggle continues, a sense of hope persists. We want to highlight the true essence of the Jamaican spirit—tenacity in adversity and a fervent belief in the promise of better days ahead," she said.