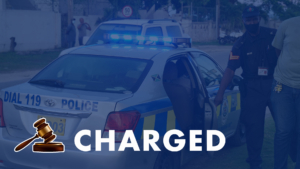 The St. Catherine South Police charged 30-year-old Johnoy Black, taxi operator of Todd Lane, Kingston CSO for Murder, Robbery with Aggravation, Illegal Possession of Firearm and Ammuniton following an incident that took place on Dyke Road, Portmore, St. Catherine on January 20.
Dead is 32-year-old Ricardo Blackwood otherwise called 'Andrew', Labourer of Rashford Avenue, Kingston 3.
Reports from the Portmore Police are that about 4:00 p.m., Black along with other men robbed Blackwood in the Tivoli Gardens community when he went to purchase a bike. They took him in the motorcar where he was shot and killed and dumped on Dyke Road. His body was found by the Police.
On April 6 the accused was taken into custody and on April 21 he was pointed out during an Identification Parade by an eyewitness. He was charged the following day.
His court date is being finalised.