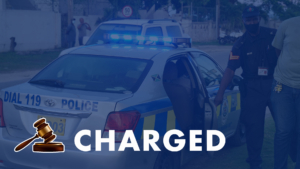 Twenty-one-year-old Conroy Campbell, otherwise called 'Ovo', a mechanic of Dalling Street, Savanna-la-Mar in Westmoreland was arrested and charged following an incident in his community on Friday, August 27.
Reports from the Savanna-la-Mar Police are that about 8:30 a.m., a man was driving his motor car along the above mentioned roadway when he was allegedly confronted by Campbell who opened gunfire at him. The man managed to escape and made a report to the Police.
An investigation was launched and Campbell was arrested on Tuesday, August 31 and charged on Thursday, September 09 with Shooting with Intent, Malicious Destruction of Property and Illegal Possession of Firearm following an identification parade.
His court date is being finalised.