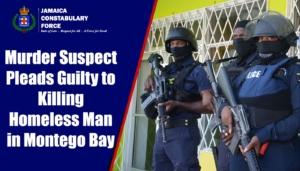 The man accused of brutally murdering Mathew Lettman, a homeless individual living on the streets of Montego Bay, has entered a guilty plea. The sentencing for 27-year-old Rushawn Bulgin is scheduled for tomorrow, 12th October 2023, at the St James Circuit Court. The case will be heard before High Court judge Justice Judith Pusey.
Lettman's lifeless body was discovered on the morning of March 7 this year, along the Jimmy Cliff Blvd, with severe injuries consistent with a brutal attack. Preliminary reports revealed his skull had been crushed, likely by a heavy stone, which led to his death. A post mortem examination conducted on 6th April 2023 confirmed these findings.
The St James Police were quick to respond. Within the first 24 hours of the discovery, detectives, alongside the Crime Scene Investigators and the Communication Forensic and Cyber Crimes Division (CFCD), identified Bulgin as a key person of interest. A citywide manhunt culminated in his capture just two days after the crime, on the 9th March.
Following his arrest, investigators conducted extensive interviews and even secured a caution statement from Bulgin on 10th March. The combined efforts of detectives and the CFCD played a pivotal role in building a robust case, supported by both digital and forensic evidence.
The city now awaits the court's decision on Bulgin's fate tomorrow.