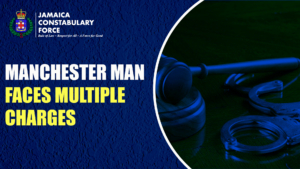 Thirty-nine-old Sean Goulbourne otherwise called 'Sean Blacks', a higgler of Sommerset district, Mandeville, Manchester, has been charged with Murder, Conspiracy to Murder, Possession of a Prohibited Weapon, Unlawful Possession of Ammunition and Using a Firearm to Commit a scheduled Offence, following an incident in Walworth Drive, Christian Gardens, Gregory Park, St. Catherine on Monday, August 07.
Reports are that about 2:45 p.m., Goulbourne and other men were traveling in a black motorcar. They went to the home of 71-year-old Errol Green where Goulbourne exited the vehicle, approached Green and opened gunfire on him. He later made good his escape in the waiting motorcar.
The lawmen were summoned by residents, and upon on their arrival found the deceased slumped in a chair. He was rushed to hospital where death was confirmed.
On Tuesday August 22, Goulbourne was taken in custody after he was name as a suspect in the murder. He was subsequently charged after a question-and-answer session on Monday, August 28.
His court date is being finalized.