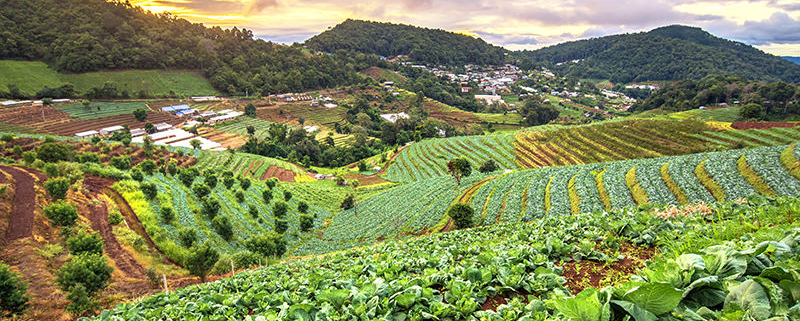 Praedial Larceny Prevention Tips
As we seek to protect, serve and reassure members in the agricultural sector and generally the Jamaican society, we want to remind you that your safety begins with you. Here are some tips that may assist you to protect life, investments, and property:
Record Keeping
Create or update your current list of assets and personal items including vehicles, farm tools, and other implements, crop value and number of animals owned. It is important to keep a copy of this record for reporting purposes if the need arises. Record biodata for employees to include home address, next of kin, contact numbers, and location information for the purpose of creating a personal file for each person. Request recommendation letters from reputable individuals that speak to the character of farmworkers prior to employment. The request for police records during the vetting process for all potential employees is relevant. A log of all animals and their branding number, tattoo or tag number should also be kept for personal records. This information applies to both large and small farmers.
Creating Identity
Ensure that special markings are placed on animals (branding, tattoo, tag) so that they can be identified easily in the event of theft. This will also serve as an accountability measure for farmers who conduct daily checks and balances of their stock.
Proper Lighting and Bushing
 Ensure that your premises are properly lit especially around the perimeter of farms and behind buildings. Trees or bushy areas need to be properly maintained to have clear visibility around the farm and reduce the possibility of persons lurking in or around your premises.
Fencing and Gates
Fencing defines property boundaries and restrict access to persons and animals that may trespass on your property. Make regular checks and inspections to validate the integrity of fences and gates so that the necessary repairs or improvements can be done. No trespassing and beware of dog signs can be helpful and assist in maintaining privacy and safety.
Alarm and Warning Systems
 Having a dog around your farm is a type of alarm as an early warning system can be effective and prevent farm theft. Where possible, it is encouraged that security cameras, video surveillance and other monitoring systems be utilized as this has proven to reduce and prevent incidents of farm theft. Detection devices such as motion sensors, tripwires, sensor lights, panic buttons, and cowbells are useful warning tools that can assist to protect life and property.
Build Meaningful Partnerships
 The Farm Watch Program encourages partnership at the community level with farmers, community members, the police and other stakeholders. This crime reduction/prevention strategy is useful as it helps members of the community to pool resources and be their neighbours keeper by giving an eye on their neighbours farm and property. Staying alert both night and day and identifying strange persons and vehicles can be the difference between life and death. Maintaining contact for your neighbors or community members can also serve well as we seek to alert persons as to what is happening around them. The number for your local Community Development Committee members, RADA, JAS, and other stakeholders can serve well as there is always strength in numbers.
Communication
 It is important to know and document the numbers for your local police station, 119 or 311 to report farm theft or any emergency. Don't support it, report it.
PRAEDIAL LARCENY PREVENTION IS EVERYBODY'S BUSINESS.
https://jcf.gov.jm/wp-content/uploads/2019/12/Crops.jpg
462
800
Shaunjaye Mitchell
https://www.jcf.gov.jm/wp-content/uploads/2019/07/LOGO-JCF-300x60.png
Shaunjaye Mitchell
2019-12-24 16:01:48
2019-12-24 16:01:53
Praedial Larceny Prevention Tips