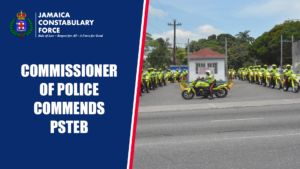 Addressing traffic concerns and matters of public order was the Commissioner of Police, Major General Antony Anderson along with his deputies at the monthly press briefing at his headquarters on Tuesday, September 6.
Starting the press briefing, Anderson commended the highly visible, agile and responsive police traffic management efforts of the Public Safety and Traffic Enforcement Branch (PSTEB), which celebrated its fourth anniversary in August.
"Over the past four years the branch has issued over 805,000 traffic tickets, which translates into over 200,000 man hours just writing tickets," said Major General Anderson. He also highlighted the work of the Quick Response Team of the branch. Beginning in March last year, the motorcycle teams have been dispatched to several divisions, including St. James and St. Elizabeth, as a direct response to violence perpetrators who use motorcycles as their mode of transport. The unit has made over 600 arrests and seized 49 firearms.
Major General Anderson noted that with the reopening of schools, PSTEB was once again at the forefront of traffic management.
"As anticipated, traffic was heavier than normal," he said of Monday, September 5, the official start of the 2022/2023 school year. "Additional resources were committed to manage the process." He said based on his assessment and feedback received, the strategies that were put in place worked "reasonably well." "We will continue to assess and adjust as required as schools fully re-open," he said.
With the increase in commuting traffic, Major General Anderson used the occasion to urge caution on the part of road users, particularly motorists.
"The main issue of concern in this regard has to be the improper use of our roadways by [undisciplined] drivers," he said. "We see the impact improper road use has on police resources, medical institutions and families who lose loved ones. In most instances, those tragic crashes could have been avoided if road users exercised patience and obeyed the rule of law."
The Commissioner said that with the passing of the new Road Traffic Act and its regulations, persons who break the law will face greater penalties. He said however, that the legislation was not the panacea to the problem.
"Our presence on the roadways will only go so far," he said, explaining that despite a high level of enforcement by PSTEB over the past four years, there has been little change in motorist behaviour. "Less than 40 percent of traffic tickets are paid," he pointed out, giving two recent examples of motorists who were arrested with hundreds of unpaid tickets. One of them had amassed 1,213 tickets and was ordered to spend 3 months in jail when he could not pay the fine of JM $866, 000.
"Motorists must exercise due care and personal responsibility," he said. "I appeal to all road users, including pedestrians, follow the rules and be aware and considerate of fellow road users."