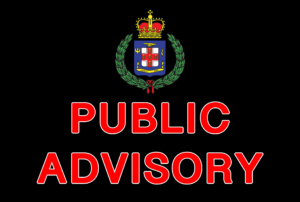 December 19, 2022- Members of the public are hereby advised that under the authority of section 22 of the Constabulary Force Act; and after consultation with personnel from the National Works Agency and the St. Elizabeth Municipal Corporation, the Superintendent of Police in-charge of the St. Elizabeth Division will be implementing the following changes to the flow of traffic in the town of Santa Cruz, St. Elizabeth commencing Monday, December 19, 2022 to Friday January 6, 2023 between the hours of 7:00 a.m. to 8:00 p.m. Mondays to Saturdays (or as the need arises).
Main Street will operate as one way in a westerly direction, starting at the intersection of Coke Drive and Institution Drive.
No right turn will be allowed from Coke Drive onto Main Street.
Motorists wishing to exit the town of Santa Cruz for travel towards Mandeville should use Market Street, onto the Bypass.
Motorists wishing to enter the Santa Cruz business district from the direction of Lacovia are to travel along the Bypass and use Institution Drive as an entrance point.
No right turn will be allowed at the intersection of Market Street and the Bypass.
Motorists who wish to travel to Malvern can use Retirement Road or travel to the end of the Bypass, turn right and then left onto Centre Road.
The St. Elizabeth Police remains committed to ensuring that public order is maintained and will assess the situation and make the necessary adjustments if necessary as we ensure a safe Christmas for everyone.