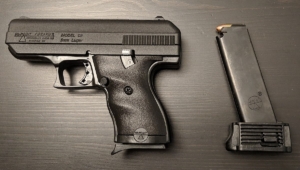 Detectives assigned to the St. Andrew North Proactive Investigation Unit (PIU) seized one firearm and several rounds of ammunition during an operation in Airy Castle, Stony Hill in St. Andrew on Sunday, June 27. Two men were arrested in relation to the seizure.
Reports are that about 5:30 p.m., the officers were patrolling along the Airy Castle Road when they saw three men. On seeing the Police the men ran leaving behind a bag. The Police gave chase and two of the men were accosted. The bag was retrieved and one 9mm browning pistol with a magazine containing five rounds of ammunition was found.
The men were taken into custody; however their identities are being withheld pending further investigation.