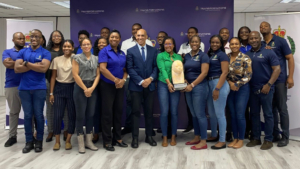 Police Commissioner, Major General Antony Anderson, lauded the Corporate Communications Unit (CCU) in a special meeting today, following their remarkable victory at the Jamaica Chamber of Commerce's 38th Annual Awards Gala.
This landmark win by the Jamaica Constabulary Force (JCF) underscored the CCU's exemplary transformation of the Force's stakeholder engagement practices, a victory lauded as a first for any law enforcement entity in the category of Marketing Excellence.
Commissioner Anderson praised the CCU staff for their exceptional work, lauding their high standards of professionalism and their inventive strategies that significantly highlighted the work of the JCF.
In his motivational address, the Commissioner urged the team to maintain their exemplary standards. "This prestigious award win reflects not just the excellence of your work, but the potential that lies ahead. You have set a new standard, and now the world is watching. Keep your standards high, for excellence is not a destination, but a continuous journey," he said.
He further encouraged the team to strive for even greater accomplishments. "Remember, the higher we soar, the smaller we appear to those who cannot fly. So let's continue to soar, to reach new heights, to be an inspiration for others in our field," the Commissioner added.
The Commissioner's recognition and the award win signify a new era for the JCF in the realm of digital engagement and marketing. This progress is set to continue impacting their stakeholder engagement positively and build a stronger connection with the communities they serve.