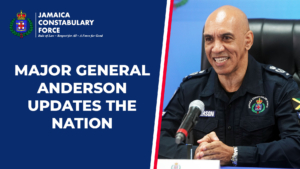 The Jamaica Constabulary Force (JCF) continues to reap major successes in its pushback against organised crime in Jamaica.
Since the beginning of 2022, the JCF has arrested and charged 149 gang leaders and crime influencers, disrupting a total of 78 gangs nationwide. In a digital press briefing held on Tuesday, April 4, Police Commissioner, Major General Anderson, reaffirmed the Constabulary's commitment to dismantling criminal organizations and restoring safety to communities across the country.
"Our commitment as the JCF is to continue to relentlessly target criminal organizations and remove those criminal gangsters who use fear to subdue communities, commit murders, and interrupt the quality of life of law-abiding citizens," Major General Anderson said.
Despite the resource-intensive nature of gang investigations, the JCF remains focused on addressing these criminal organizations. Commissioner Anderson highlighted the Force's strategy of conducting extensive post-trial reviews to improve future cases, as well as the recent launch of an Advanced Counter-Gang Training Course in collaboration with America's National Centre for State Courts and the US Bureau of International Narcotics and Law Enforcement Affairs.
The training course, which began on March 30, aims to enhance the capacity of the entire law enforcement community to investigate, prosecute, and secure convictions in organized crime cases. A total of 60 participants from various law enforcement agencies, including the JCF, MOCA, the Department of Corrections, the Victim Support Division of the Justice Ministry, and the Financial Investigating Division (FID), attended the training.
Major General Anderson expressed his confidence in the program, stating, "We believe that this training will lead to even more arrests and convictions in the future, as we continue to disrupt the criminal organizations."