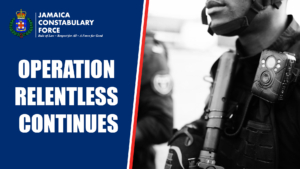 The Jamaica Constabulary Force (JCF) in partnership with the Jamaica Defence Force (JDF) has commenced a series of island wide surge operations designed to bolster our continuous efforts to combat crime and ensure the safety and security of our nation.
As of 3:00p.m. on April 7, 2023, simultaneous operational initiatives have been launched across police divisions in Jamaica, with a focus on building upon the gains made in reducing major crimes during the first quarter of the year. While the contribution of gang conflicts to the total number of murders has seen a decline this year, gang violence remains a significant threat to the safety and security of our communities.
The JCF and JDF have been steadfast in advancing our counter-gang thrust, which has reaped substantial rewards thus far. In response to the recent flare-up of violence in certain areas, Divisional Commanders have carefully designed operations tailored to address the specific threats in these spaces.
We urge members of the public to cooperate with law enforcement officers working within their communities, as public support is crucial in our collective efforts to maintain a safer environment for all Jamaicans. Together, we stand strong and unwavering in our commitment to removing guns, gunmen and gangs from our communities.