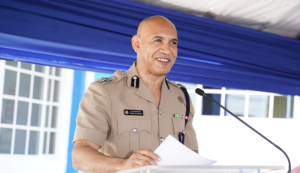 January 03, 2023- Approaching the new year with a sense of optimism is Commissioner of Police Major General Antony Anderson as he delivers his speech to officers at the Commissioner's Annual General Devotion held at his office on Tuesday, January 3.
Held under the theme: Relentless Pursuit of Excellence: A Force Good, the devotion featured performances from the Jamaica Constabulary Force (JCF) band and choir, leading the year ahead with rich worship and fellowship.
In his remarks, Major General Antony Anderson said "it's going to be a good year" as he will approach the new year with a positive mindset. "The way I'm approaching this year is that the force is in a good place and only getting better, our JCF is growing from strength to strength and It has been proven to be a force for good in many ways," said Major General Anderson.
The JCF head also expects fantastic results this year as the Force is equipped with a hardworking team and reliable plans for the future. "We have people who are committed, optimistic and have a greater understanding of their role and ability to create a positive influence in other people's lives, especially their own," said Anderson.
For the new year, he recommends that officers find a solution for each problem and see challenges as opportunities. He concluded his speech by thanking the members for their continuous hard work.
"I'm saying it as Commissioner and personally, thank you all for the work you did over the past year, you made a difference in this country whether you were at the frontline or not," said Anderson.