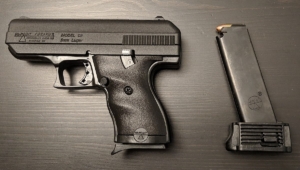 One Sig Sauer 9mm pistol, a magazine and eleven 9mm rounds of ammunition were seized by the Constant Spring Police during an operation in the Cassava Piece community, St. Andrew on Thursday, October 7.
One man was arrested in connection with the seizure.
Reports from the Constant Spring Police are that about 9:30 a.m., lawmen were on patrol in the community. On seeing the police team, a man jumped from a fence he was sitting on and ran into a close by lane. He was chased, accosted and searched. The firearm and ammunition were found inside his pocket. He remains in custody pending an interview in the presence of his attorney.
His identity is being withheld pending further investigation.