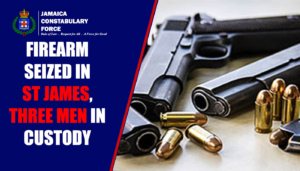 One UZI sub-machine firearm with several rounds of assorted ammunition was seized following a targeted raid in Hurlock, St James on Monday, October 09. Three men were taken into custody.
Reports from the police are that about 3:20 p.m., lawmen conducted an operation in the area and a premise was searched. During the search the firearm and ammunition was recovered along with a ballistic vest.
Their identity is being withheld pending further investigations.