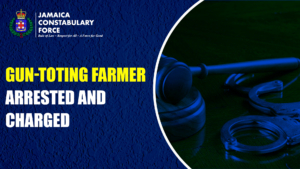 St. Elizabeth police arrested and charged Chrisford Campbell, also known as 'Chris,' a 25-year-old farmer from Pedro Cross District, St. Elizabeth with Assault at Common-law and Possession of Prohibited Weapon after he reportedly pointed a firearm at a police team early this year.
Reports indicate that on March 5, 2023, around 2:40 a.m., Campbell was seen at a Treasure Beach night club showing a firearm to friends. The police was notified and officers arrived at the scene.
Campbell fled upon seeing the police and a pursuit ensued. After momentarily stopping, he swiftly retrieved a firearm from his waistband, aimed it at the police, who retreated, resulting in Campbell evading capture.
During a police operation on Saturday, August 19, Campbell was apprehended. Subsequently, he was charged on Sunday, August 20.
His court date is being arranged.