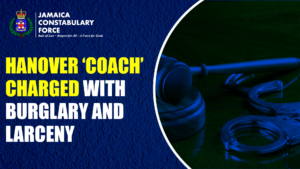 Thirty-nine-year-old Dwayne Coach of Cauldwell district, Hanover was charged with Burglary and Larceny following an incident that occurred in his community on Sunday, July 23.
Reports from the Lucea Police are that about 11:00 p.m., a man was outside in his yard, when he heard footsteps inside his house. He made checks and saw Coach inside his house, searching. The man made an alarm and Coach tried to bar the man from entering his house however, the man managed to keep the door open. A struggle ensued between them and Coach escaped.
A report was made to the police, an investigation was carried out and Coach arrested. He was charged after being questioned in the presence of his attorney.
His court date is being finalised.