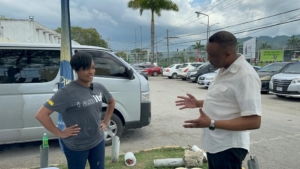 May 26, 2023– Forging a beacon of hope in an age when community engagement is crucial, the business community of St. James and the Jamaica Constabulary Force (JCF) are pioneering a paradigm of partnership that not only fosters trust and safety but is also reshaping the fabric of community policing.
Head of the St. James Community Safety and Security team, Deputy Superintendent of Police Angela McIntosh-Gayle, along with her colleagues, are firm advocates for this community-based policing model. The mutual trust this model builds between citizens and law enforcement is instrumental for maintaining a constant flow of valuable intelligence, a key component in the JCF's crime prevention and resolution efforts.
The St. James business community has been a shining example of this commitment, consistently working to cultivate the necessary relationships with law enforcement to make the parish a safer place. DSP Angela McIntosh-Gayle has lauded their efforts and unwavering support, demonstrated most recently through their active participation in Labour Day projects alongside the JCF. "I commend the business community for their continued engagement, and I encourage them to extend their support beyond Labour Day and remain involved in our ongoing projects," says McIntosh-Gayle.
Several police stations and schools within the parish have been spruced up thanks to the combined efforts of the JCF and two local business entities, ITEL and COK. Their generous contributions of
over 300 gallons of paint and painting supplies have given these community spaces a new lease on life. Mr. Wallisford Mullings, Manager of COK's St. James branch, and his team, played a significant role at the Barnett Street Station. Mullings stressed the importance of such collaborations, which enhance not just individual communities, but the entire nation.
Mirroring this sentiment, Tanisha McKenzie, Resource and Culture Manager from ITEL, alongside her team, contributed to a beautification project at the Freeport station. Emphasising ITEL's belief in the power of partnerships, McKenzie noted that giving back to the JCF was a natural extension of their corporate responsibility. She appreciated the JCF's longstanding association with their company and cherished the opportunity to work in tandem with the law enforcement officers.
DSP McIntosh-Gayle expressed her gratitude on behalf of the JCF's high command, urging the business community to continue their invaluable support. This collective commitment strengthens the JCF's resolve and furthers their mandate of being a #ForceForGood, building a brighter and safer future for all.