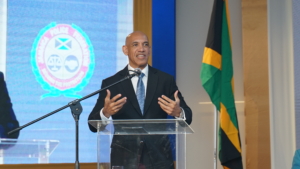 Just under 500 members of the Jamaica Constabulary Force will be promoted in the coming weeks. Commissioner of Police Major General Antony Anderson made the disclosure as he addressed delegates of the Jamaica Police Federation on Tuesday, May 30.
According to Anderson, 486 rank and file members—210 Corporals, 218 Constables and 58 Sergeants are to be elevated to the next rank.
"I want this year to be the highest year for promotions of the JCF, and we're on track to do that" Anderson said.
Explaining that the figure represented only the first tranche of promotions for the year, Anderson reiterated the commitment of the High Command to continue pursuing varied pathways for promotion. He also hinted that the rate of promotions would likely increase as the need for supervisors for a young staff increases.
"We're always looking at new pathways….we have many pathways that we have been using and will continue to use," he said.
The delegates of the Police Federation have gathered at the Ocean Coral Spring Hotel in Trelawny for the 80th staging of the joint central conferences. On Wednesday, the curtains will come down on the two day conference as the delegates go to the polls to decide who will make up the central executive of the police federation for the next year.