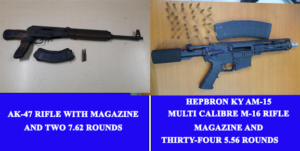 Kingston East seized a second firearm on Sunday, March 20, as operations are sustained across the Division.
About 5:50 p.m., during the operation, a garage on Mountain View Avenue, Kingston 3 was searched; one AK-47 rifle with a magazine containing two 7.62 cartridges was found wrapped in a bag beneath a container. No arrest was made.
This incident trails the seizure of one Hebron KY AM-15 multiple calibre M16 rifle and a magazine containing thirty-four 5.56 cartidges in the Dunkirk Community. The seizure which took place at approximately 11:20 a.m. resulted in one man being arrested after the weapon was found beneath the floor of his bedroom. His identity is being withheld at this time.
Heightened operations continue as the police remain committed to rid the street of guns, gangs and gunmen.