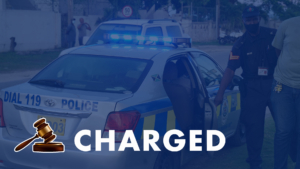 Lawmen assigned to the St. Catherine South Police Division have arrested and charged 31-year-old Saddam Morgan, welder of Windsor Heights, Central Village, St. Catherine with the murder of 31-year-old Leona Salmon, otherwise called 'Thrackas', haulage contractor of Windsor Heights in the parish on Wednesday, February 18. He has also been charged with Illegal Possession of Firearm and Robbery with Aggravation.
The facts are that about 10:00 p.m., Salmon loaded her International Truck with an assortment of goods valued JMD 8,000,000 to be delivered to Westmoreland the following day. She drove the truck home; Salmon and three other men robbed her of the truck and its contents, then took her to nearby bushes where they shot and killed her.
Salmon was named in a witness statement as one of the men who committed the crime. On February 20, he was taken into custody during an operation and on Saturday, February 26, 2022 a question and answer session was conducted in the presence of his attorney after which he was charged.
His court date is being finalised.