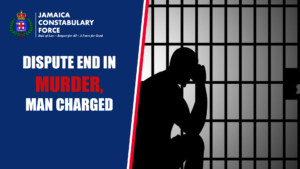 A St. Elizabeth man has been charged with Murder, after a dispute over trespassing escalated into a physical battle in Fullerswood District, St. Elizabeth on July 08.
Charged is Nicholas Hutchinson, 42, construction worker of Arlington District in the parish.
Reports from the Black River Police are that at about 9:00a.m., 60-year-old Oswald Valentine confronted Hutchinson, who was trespassing on his property. They got into a physical altercation, when Hutchinson used a machete to chop Valentine several times on the head. Hutchinson then sought medical assistance for superficial wounds on the hand, when the police were alerted. After a short conversation with the police, Hutchinson led lawmen to the property where Valentine's body was found lying on its back with multiple wounds to the head.
Hutchinson was charged on Wednesday, August 10 after a post mortem examination was carried out.
He will be arraigned on Monday, August 14.