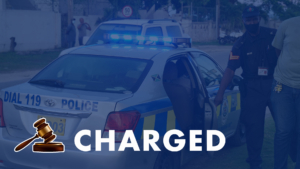 The Manchester Police arrested and charged two men following an incident on Sunset Avenue, Knockpatrick in the parish on Tuesday, December 28.
Charged with Rape, Grievous sexual assault, Illegal Possession of Firearm and Ammunition, Robbery with Aggravation, Wounding with Intent, Shooting with Intent are 20-year-old Richard Richmond, a labourer of Sweet Land district in the parish and 22-year-old Shamore Evans otherwise called 'Shango', a disc jockey of Pusey Hill in the parish.
Reports from the Black River Police are that about 2:30 a.m., both accused armed with a gun and a knife held up three women and sexually assaulted them. The women were robbed of their properties before one of the men fired several shots at them.
A report was made to the police and both men were arrested during an operation in the area. Evans and Richmond were charged after being pointed out on identification parades.
Their court dates are being finalised.