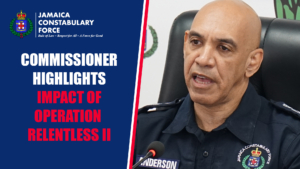 Commissioner of Police, Major General Antony Anderson, during his monthly press briefing on Tuesday, October 4, explains that he has seen a reduction in violent crimes as Operation Relentless II is in effect.
Launched on September 23, the operation targets criminal gangs, illicit guns, narcotics trade, and lottery scams. The series of targeted activities have been the subject of weeks of data and intelligence analysis and planning within the Jamaica Constabulary Force (JCF), and also joint planning with the Jamaica Defense Force (JDF).
"Since the start of Operation Relentless II, there have been significant cocaine seizures at two of our airports with a combined value of over US$ 25 million. As it relates to the major narcotics operation at the Ian Flemming International Airport on September 23, in which more than 1100 pounds of Cocaine was seized, that transnational investigation is ongoing. As it relates to the September 30 cocaine seizure by members of the Narcotics Division where eighteen (18) pounds of Cocaine was seized at the Sangster International Airport, one suspect is in custody and arrangements are being made for him to be questioned and charged," stated Anderson.
He also reports the seizure of 20 illegal guns within the first eight days of the launch and the arrests of one hundred and six (106) persons for various offences, thirty-four (34) of whom were arrested for illegal possession of firearm and or ammunition and seven for murder.
"The operational activities will continue until year-end and into the New Year. As additional resources come on stream, we will be allocating them across the country based on the various needs outlined in the policing plans," said Anderson.
Major General Anderson is once again asking for the assistance of the law-abiding public as the JCF carries out these operations.
"As we apply pressure on the spaces in which these criminals operate, you may see strange persons turning up in your communities. Do not allow them to get comfortable in your communities. If you see something, say something. Report it to the police. Call our TIP Line at 811; Police 119 Emergency or Crime Stop at 311," said Anderson.