The first of six marine vessels that have been donated to Jamaica from the Government of Japan was handed over to the Jamaica Constabulary Force, JCF, today.
The government of Japan through its Economic and Social Development Programme has partnered with Jamaica, providing a grant of $420 million to enhance Jamaica's maritime security and disaster response capabilities.
The six vessels will be split between the JCF and the Jamaica Defence Force.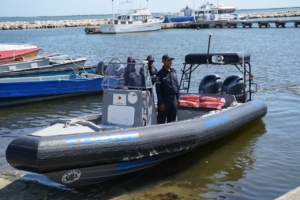 Commissioner of Police, Major General Antony Anderson says the donation will help to boost Jamaica's capability to patrol the country's 145 informal ports.
"The whole issue of smuggling and infiltration of our borders is a large issue for us. We work hand in glove with the JDF Coast Guard in dealing with the whole business of trafficking through our maritime space," said Commissioner Anderson.
He was speaking at the handing over ceremony for the new boat on Wednesday (October 5).
Commissioner Anderson says the donation from the Japanese will also serve a safety purpose in protecting tourism and other water-based businesses.
The boat handed over is a rigid-hull inflatable vessel.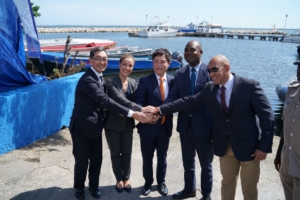 State Minister in the Ministry of National Security, Zavia Mayne, said the partnership with the Government of Japan is in keeping with the mandate of his ministry to establish a safe and secure Jamaica through effective law and public order.
"Partnerships such as these enable us to augment our maritime capabilities and prevent illegal entry of unauthorised people, weapons, drugs and other forms of contraband," said Mayne.
He says the latest investment, facilitated by Japan will help Jamaica boost its coastal surveillance and rapid response capabilities to detect illicit activities.
Parliamentary Vice-Minister for Foreign Affairs of Japan, Matoshi Akimoto, says Japan hopes the partnership between the two countries not only strengthen the activities of Jamaica's security forces but boost the country's rescue capabilities in response to water accidents.
"In addition to the rigid-hull boat being handed over today, three patrol boats are scheduled to arrive in Jamaica at the end of January next year," said Mr Akimoto through a translator.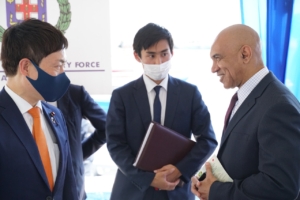 He added that an officer from Jamaica's Ministry of National Security is currently in Japan being trained in maritime rescue and maritime disaster prevention.
Mr Akimoto says the boats are donated under Japan's Grant Aid Programme that was signed in 2019 between Prime Ministers Andrew Holness of Jamaica and the late Shinzo Abe of Japan.