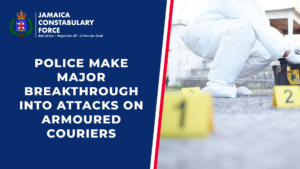 Police investigators have made a major breakthrough in the investigation into the recent attacks on armoured couriers. A St. Catherine man is facing several charges under the new Firearms Act, the Anti-Gang Legislation and other laws, in relation to the attack on Beryllium security officers that took place in St. Thomas on Saturday, April 29.
Twenty-eight-year-old Jevon Bashford otherwise called 'Bashy', of Mandock Avenue, Big Lane in Central Village, St. Catherine has been charged with;
Wounding with Intent with use of a firearm
Robbery with Aggravation
Shooting with Intent
Use of a Firearm to Commit a Felony (two counts)
Possession of Prohibited Weapon
Unauthorized Possession of Ammunition
Stockpiling Firearms
Stockpiling Ammunition
Possession of Firearm and Ammunition with Intent to Cause Damage
Being a participant of a criminal organization
Malicious Destruction of Properties
Using conveyance to traffic firearms
Facilitating the commission of an applicable offence by a criminal organization
Conspiracy to Commit Robbery with Aggravation
About 10:53 a.m. on the day in question, the Beryllium Officers entered the compound of a service station to carry out maintenance duties, when they were attacked by a group of armed men, who opened gunfire at them. One of the security officers along with a bystander were shot and injured. A bag containing over $100,000 JMD was also stolen from the Beryllium truck, before the men escaped in a motor car.
Intense investigations led to detectives from the Counter-Terrorism and Organized Crime Investigations Branch (C-TOC) conducting an operation on Jacques Road in Mountain View, Kingston on Friday, June 09, where two high powered rifles and over seventy (70) assorted rounds of ammunition were seized. Bashford was taken into custody at that scene. He reportedly gave a caution statement in the presence of his attorney, was interviewed and subsequently charged. His court date is being arranged.