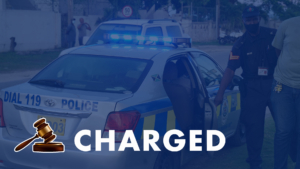 Twenty-nine-year-old Roneil Morris, otherwise called 'Pops', of Humming Bird Drive in Norwood, St James was charged withIllegal Possession of Firearm and Ammunitionfollowing a seizure on Bond Lane in the parish on Tuesday May 31.
Reports are that about 8:50 p.m., a joint Police/Military team was on patrol in the area when they observed a group of persons standing on the roadway. Upon seeing the team, they ran in different directions. Morris was apprehended and one Glock 9mm pistol with a magazine containing seventeen 9mm rounds taken from his waistband.
He was taken into custody, where he was charged for the offence.
His court date is being finalised.