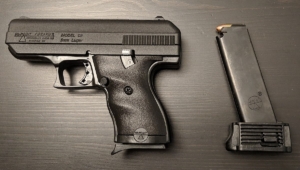 The quick response of a police team on patrol in the Kingston Central Division led to the seizure of a firearm on James Street in Kingston on Saturday, October 02.
Reports are that about 6:00 p.m., lawmen were on patrol in the area when they heard explosions coming from the direction of the Sutton Street area. They responded and saw a man running with a firearm. The team pursued him; the man entered a premises on James Street. A snap raid ensued and a CZ-75 9mm pistol with an empty magazine was found in the cellar. The man however managed to escape.
Investigations continue.