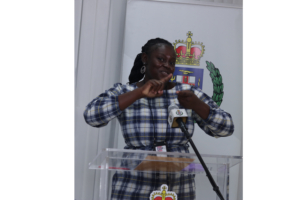 The Jamaica Constabulary Force (JCF) and its auxiliaries have the mandate to provide police services to the people of Jamaica. The JCF recognizes that these services require the police to be more responsive and accountable to the citizens in a dynamic environment where needs and expectations are constantly changing.
The deaf community is among the group of persons that face communication barriers with the justice system and until the introduction of 'Safe and Sound JA' on July 1, 2021, the JCF did not have the resources to serve them effectively.
The aim of 'Safe and Sound JA' is to address the communication barriers between the JCF and the deaf community through the implementation of 24-hour interpreting service systems that will facilitate certified interpreters remotely on a zoom platform. The service is now available at the Half Way Tree Police Station located in St. Andrew and Mandeville Police Station in Manchester.
Sandra Whyte, General Secretary of the National Police Youth Club Council who participated in the launch of 'Safe and Sound JA' held on September 29,2021 at the office of the Commissioner of Police highlighted that "The police report is the single most important element between a victim and justice. It is the first and necessary step towards a matter being admissible in court and in the pursuit of justice."
Superintendent Velma Thomas-Gayle of the Community Safety and Security Branch (which oversees the Police Youth Club movement) shared similar sentiments in her address to the largely virtual audience. She said that it is now time for the JCF and other members of our society to work together to ensure that all is well for the deaf community, so that they too can be assured of equal access to the justice system. In ensuring that the deaf community has equal access to the justice system, there needs to be necessary, indispensable and professional interpreting services.