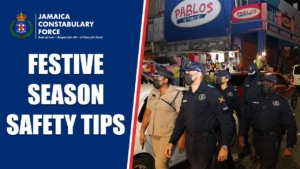 December 12, 2022- While the police are prepared and additional men and women have been deployed to the streets during the yuletide season, here are some safety tips for you, our business owners. Please help us keep you safe by following these tips.
Keep your front doors and windows clear of signs and posters to allow for visibility; ensure employees can see outside the business and customers can see inside the company.
Keep the outside of your business well-lit at night.Ensure sufficient lighting around the property, including any rear or side alleyways.
Install video surveillance. Use cameras or mirrors to observe all store areas and avoid any "blind spots." The equipment should allow for a 360-degree view of the exterior. Ensure the video camera is set to the correct date and time, the system is always functioning correctly, and store managers know how to operate it.
Place a surveillance camera behind the cash register, facing the front counter.
Post signs indicating "limited cash on hand."Employ security services for your bank lodgments, and make these lodgments as often as possible and at least once per day. Keeping large amounts of cash attracts robbers.
Greet everyone who enters. Be alert for customers who seem to loiter or glance around the store without a clear purpose.
Never allowindividuals to loiter outside of your store.
Do not allowyour employees to congregate in one area. Ensure they are spread out and aware of their surroundings.
If you see someone acting suspiciously inside or outside, call the police. 
Never allowindividuals to wear ski masks or other clothing that covers their faces inside your store.
Keep side and back doors locked.Have employees use the main entrance, if possible.
Have a panic or hold-up alarm installed in your business.
Avoid lone worker lock-ups.A lone worker is an opportunity for opportunistic thieves who want access to your premises. The best measure to protect your staff and business is to assign two workers with the responsibility of locking up before the Christmas break.