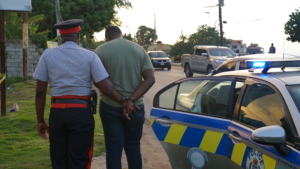 Duwayne Barrett otherwise called 'Pree Pree', 24-year-old, Welder of Boys Content, Old Harbour in St. Catherine was charged with two counts of Wounding with Intent after he shot a man and a woman at a vigil on Wednesday, October 06.
Reports from the Lionel Town Police are that about 8:00 p.m., Barrett alighted from a vehicle and shot a male and female who were attending the event. He then escaped in a waiting Toyota Axio motor car. Both injured persons were taken to hospital where they were treated and admitted in stable condition.
Barrett was arrested on Monday, November 15 following an intense investigation. His court date is not yet assigned.