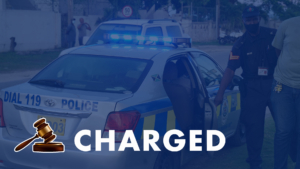 Two men have been arrested and charged with Illegal Possession of Firearm following an incident on Williams Street, Spanish Town, St. Catherine on Monday, February 14.
Charged are 25-year-old Jovan Basceosigh otherwise called 'Bossy', Music Producer and 28-year-old Keno Johnson otherwise called 'Old Carpenter', both of William Street, Spanish Town.
Reports from the St. Catherine North Police are that about 3:00 p.m., a police team acting on information conducted a snap raid at the above mentioned address, believed to have been occupied by persons of interest . A firearm was recovered and both men taken into custody.
They were charged on Saturday, February 19 after and interview in the presence of their attorney.
Their court date is being finalised.