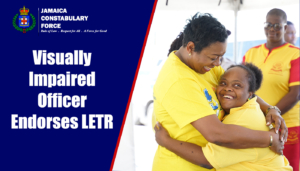 For some, the Jamaica Constabulary Force and the needs of differently-abled people seem to have little in common. But Detective Inspector Rohan Brown, who has been serving the Force since 2006 while being visually impaired, says the JCF is at the forefront of supporting special needs.
"The force has been a leader and trendsetter in taking care of disabled members," said Detective Inspector Brown.
Brown joined the force on February 4, 1994, but went blind in 2000 after a car accident. He enrolled in a course at the Jamaica Society for Blind, where he learned to use computers as well as Braille. He was then reinstated as a detective constable in 2006.
"It is nice to know that even as a blind person, I can assist people to rise above their challenges and when I go home in the evenings, I feel fulfilled to know that I can assist…" explained Brown.
Brown now serves in the Community Safety and Security Branch in Portland, where he mentors and counsels individuals in schools, youth clubs and neighbourhoods. He also gives back to communities, especially the special needs community.
"It is very important to me because being disabled myself, I want the public to know that we can participate in sports and we can do things that abled body people can do. We just do it differently once we take on the challenge," Brown said.
He says that disabled individuals are not different, they just carry out their functions differently.
Detective Inspector Brown was out with other members of the Portland division and community persons as they took the Special Olympics Flame of Hope across the parish on Wednesday, June 21. The flame is blazing its way across major towns islandwide, making its way to the Police Officers Club in St. Andrew. There, on Sunday, July 16, supporters of Special Olympics Jamaica will come together under the law enforcement torch run banner to participate in a 5k run/walk to raise funds to support the country's special athletes.
Brown's commanding officer and head of the Portland Division, Superintendent Lloyd Darby, wants citizens to actively work together to make a positive impact on the lives of differently abled persons.
"A gesture like this can show the rest of Jamaica that they must also make some contribution and give some thought to the persons with disabilities. Sporting is big in Jamaica and Special Olympics is where a person with a disability gets the chance to become involved," explained Superintendent Darby.
He encouraged persons to register online at runningeventsja.com to support the 5K walk/run on July 16 at the Police Officers' Club in St. Andrew. Persons can also be on the lookout for the flame passing through their communities, where they will be able to buy a mile or make a pledge of any amount in support of Special Olympics.