Jamaica has seen a notable increase in the number of suicides, with the majority of these tragic deaths being older men. This rise in suicides must raise serious concerns among health officials, families, and communities throughout the country.
According to data from the Jamaica Constabulary Force (JCF), there were 27 reported suicides between November and January, a significant increase compared to previous years. Of these, 23 were men, with the majority being over the age of 40. The JCF notes this with concern and is urging for greater attention to be paid to mental health and suicide prevention in Jamaica.
Comparatively speaking, the month of January was noticeably higher, registering 14 reported suicides. This compares with three in 2022 and also in 2021; and only one suicide recorded in 2020. When we focus on the Yuletide period, which is often correlated with an increase in self-reporting of higher levels of mental ill-health, the numbers were particularly concerning. December 2022 registered 10 suicides, as compared with seven in 2021 and three in 2020.
When we look further into the figures, of the 10 suicides in December 2022, half of them were men from the parish of St Ann. However, among the 14 suicides registered in January 2023, St Ann was the only parish where there was no registered suicide. Certainly, there is need for interventions at the subnational level that fall outside the realm of policing.
The reasons for this increase in suicides are not yet fully understood, yet some experts might suggest that the ongoing COVID-19 pandemic and its associated economic and social challenges may be contributing factors. The pandemic has brought unprecedented levels of stress and uncertainty to people's lives, and for older men in particular, the isolation and lack of support can be especially devastating.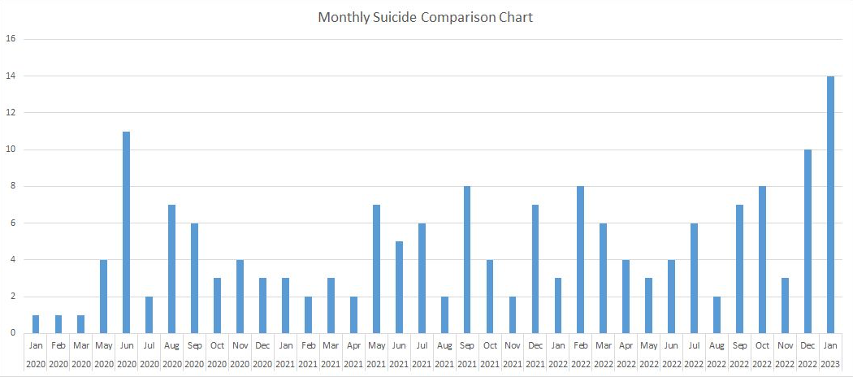 Table 1: Showing reported suicides each month from January 2020 – January 2023
The above table shows how during the period of the pandemic years suicides have fluctuated from lows of one per month to highs of eleven in June of 2020, ten in December 2022 and fourteen in January of 2023. Since the start of January 2020 and the end of January 2023, a total of 173 suicides have been recorded.
Additionally, many older men in Jamaica may also be grappling with financial difficulties and the loss of their jobs, which can further increase the risk of depression and suicide. It is also worth noting that Jamaica has a high rate of non-communicable diseases such as diabetes, hypertension, and heart disease, which can also contribute to feelings of hopelessness and depression. There is at least one reported suicide this year that involved a retired man who was battling with terminal illness.
We know that at the community level, organizations are also working to raise awareness about the importance of mental health and to provide support to those who may be struggling with feelings of depression or hopelessness. This includes education campaigns to help people understand the warning signs of suicide and how to get help, as well as peer-support groups for those who have lost loved ones to suicide.
We encourage families, religious groups and other non-governmental organisations to play their part in preventing suicides by reaching out to loved ones who may be struggling and offering support and encouragement. This may involve having difficult conversations about mental health, or simply being there to listen when someone needs to talk.
The rise in suicides in Jamaica is a sobering reminder of the need to prioritize mental health and suicide prevention. It is more important now more than ever to address the needs of those who may be struggling and to provide the support and resources they need to overcome their challenges.
By: Dennis Brooks – Senior Communications Strategist, JCF