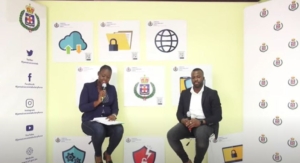 The Jamaica Constabulary Force's observance of Cyber Security Awareness Month kicked into high gear on Sunday, October 09 with the airing of the first of a four-part web series on the Force's social media pages.
 Hosted by Corporal Kayla Keane, the 15-minute discussion-style program focused on the local Cybercrimes Act and the section that deals with Malicious Communication. Keane was joined by Detective Constable Murray from the JCF's internal cybercrimes unit. While interacting with persons via the comments, the two detailed the actions that constitute an offence under Jamaican law and the steps members of the public can take when seeking help from the police.
 Sending threatening messages, posting obscene pictures without consent or even something as simple calling persons names are all actions that could find persons in contravention with the law—and the revelation was well received by members of the public who expressed surprise that the law was so far-reaching.
One participant shared her experience of having her estranged spouse share semi-nude pictures of her on a social media page that he created. Detective Constable Murray walked her through the steps of making a report, including how to save copies of the communication to be used for evidence. He also shared an interesting tidbit about the capabilities of the Communication Forensic and Cybercrimes Unit in retrieving data that was previously deleted.
 In the end, Detective Constable Murray advised victims of online harassment or cyber bullying to seek help at the nearest police station and avoid confronting the aggressor.
 The series returns on Sunday, October 16 on the JCF YouTube, Instagram and Facebook pages. Persons are encouraged to join in, comment and share with family and friends.
 Persons who missed the last episode can catch up on YouTube.