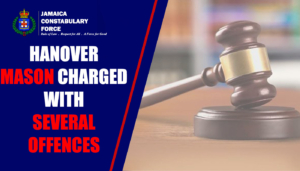 Thirty-eight-year-old Marvin Robinson, of Rose Hall District, Linstead, St. Catherine has been arrested and charged with Robbery with Aggravation and Wounding with intent with and the use of a Prohibited Weapon following an incident on Thursday, August 31.
Reports from the St. Ann's Bay Police are that about 1:15 p.m., Robinson and another man held up and robbed the truck driver who went to deliver goods and approximately JMD 35,000; his Isuzu motor truck was also taken Robinson and the other man, who then opened gunfire hitting the truck man. The police were alerted and the truck driver was taken to the hospital where he was treated.
Intense investigations led to the arrest and charge of Robinson. His court date has not been finalised and his accomplice is currently being sought by the police.