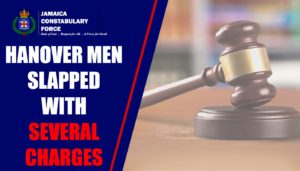 Two Hanover men are facing multiple charges under the Firearms and Offences Against the Person Acts following an incident in Cauldwell district in the parish on Monday, October 16.
Charged with Assault at Common Law, Possession of a Prohibited Weapon and Using a Firearm to Commit a Felony are:
Fifty-six-year-old Dave Anderson a construction worker of the Cauldwell District and
Forty-eight-year-old Donald Chambers, mechanic of Dalmally District in the parish.
Reports from the Lucea police are that about 4:00 p.m., a woman was at home when she heard noise outside. She made checks and saw Anderson and Chambers in her yard. An argument developed between herself and Anderson during which he pulled a firearm from his waistband and pointed it at her. She made an alarm; another man came to her rescue and a struggle developed between the man and Anderson. The gun fell to the ground; Chambers retrieved it and placed it in a car. Another tussle ensued; a machete was brought into play however it was wrestled from Anderson's hand. Anderson and Chambers left shortly after, and the matter was subsequently reported to the police.
The men were taken into custody and charged after they were pointed out to the police. Their court dates are being finalized.