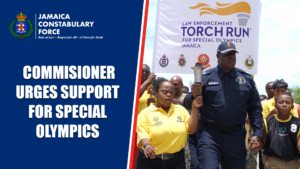 The Jamaica Constabulary Force (JCF) reaffirmed its commitment to supporting vulnerable communities through its involvement in the Special Olympics Programme.
Police Commissioner Major General Antony Anderson shared this commitment during a recent press conference. He highlighted the JCF's longstanding role as the largest fundraiser for Special Olympics Jamaica.
For the past 37 years, the JCF has actively supported the Special Olympics Programme, with contributions from other security entities and corporate groups. Commissioner Anderson expressed his commendation for the Special Olympics team and Sergeant Gladstone Sealy, who led the 65-member delegation to the Summer Games in Berlin.
The JCF delegation's outstanding performance in Berlin was celebrated, with the team bringing home a total of eighteen medals. Their remarkable achievements included eight gold medals, seven silver medals, and three bronze medals. Sergeant Gladstone Sealy's leadership and the team's dedication were acknowledged as instrumental in their success.
In light of their ongoing commitment to Special Olympics, Commissioner Anderson extended an invitation to the public. He stated, "I take this opportunity to invite you to join us on Sunday, July 16 for the 2023 staging of the Law Enforcement Torch Run 5K in support of Special Olympics." This event serves as a platform for individuals to actively contribute to the cause and demonstrate solidarity with vulnerable communities.
The JCF's dedication to supporting Special Olympics showcases their commitment to inclusivity and empowerment. Through their continued involvement, the JCF seeks to uplift vulnerable individuals and provide them with opportunities for growth, personal development, and participation in sports.
By participating in the Law Enforcement Torch Run 5K, members of the public can join forces with the JCF and contribute to the success of Special Olympics. The event not only raises funds but also fosters a sense of community and camaraderie as participants unite in support of a worthy cause.
The JCF's unwavering commitment to supporting vulnerable communities through the Special Olympics Programme reinforces their role as a force for positive change. Their efforts not only empower individuals with intellectual disabilities but also promote inclusivity and unity within Jamaican society.