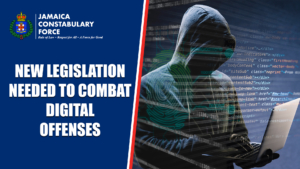 The Jamaica Constabulary Force (JCF) is urging the introduction of new legislation to address the increasing prevalence of digital offenses.
The call was made by Police Commissioner Major General Antony Anderson during a recent Quarterly Press Conference held earlier this week. In making the call, Commissioner Anderson highlighted the challenges posed by misinformation spread through social media platforms and called for stronger measures to combat crimes committed in the digital space.
Addressing the pressing issue of misinformation, Commissioner Anderson stressed the need for specific legislation to define offenses related to social media, artificial intelligence, deep fakes, and the wider use of cyberspace. He asserted, "As the digital environment evolves, we are increasingly seeing the need for specific legislation that defines new offenses within the context of social media, artificial intelligence, deep fakes, and the wider use of cyberspace."
The Commissioner underscored the detrimental impact of misinformation campaigns, particularly those intended to mislead the police during investigations. He expressed concern over the modification of videos from other jurisdictions to falsely portray events in Jamaica or present outdated footage as present occurrences. Such manipulations contribute to fear and uncertainty, not only within the country but also internationally.
Highlighting the importance of addressing digital offenses, Commissioner Anderson stated, "Whereas social media has been effectively used as a communication and engagement platform, it is increasingly becoming an enabler for ill-intentioned persons to spread misinformation and disinformation." He emphasized the urgency of tackling this issue to ensure public safety and maintain trust in the digital sphere.
The Commissioner cited a recent incident in St Ann where a bomb threat prank led to significant redeployments of government resources. This incident further highlighted the need for legal provisions to combat crimes committed through social media platforms. The perpetrator, who pleaded guilty, faces charges of creating public mischief and malicious communication under the Cybercrimes Act. The sentencing of the individual awaits further legal proceedings.
As the JCF continues its efforts to protect citizens in the digital age, Commissioner Anderson urged the public to act responsibly in their use of the digital space. He emphasized that responsible behaviour online is crucial in creating a safer and more secure digital environment for all.
The JCF's call for new legislation to combat digital offenses reflects the evolving nature of crime in the modern era. By addressing the challenges posed by misinformation and social media crimes through specific legislation, law enforcement agencies aim to protect individuals and maintain the integrity of the digital landscape.