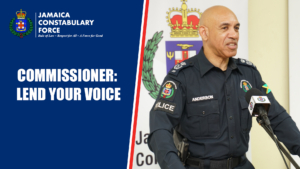 Police Commissioner, Major General Antony Anderson, is urging citizens to take a proactive approach to responding to strange persons appearing in their communities.
Speaking at a Town Hall meeting at Cecil Charlton Park in Manchester, Mandeville, Commissioner Anderson encouraged members of the public to use their voices to report disruptive short term rental guests within their community.
Responding to concerns raised about the influx of strange persons into their communities, as a result of the popular Airbnb businesses, Major General Anderson noted their concerns and committed to working with them respond effectively to the concern that persons may be using the business model with ill intent. However, he reminded the audience that, while it is the police's responsibility to warn and respond in these situations, they also depend on community members to assist by reporting these matters.
"Even before it becomes a problem, if you're seeing something that makes you uncomfortable it's important to let us know so that we can look at what's going on and have our mechanisms to respond," said Major General Anderson.
Commissioner further reminded residents that there are restrictions to the police's power regarding certain aspects of law. Therefore the responsibility is on the community members to take a stand on their complaints against wrongdoers.
"My advice is, anything within a community that is problematic lend your voices and to the persons who have platforms. Be reminded that there is a certain value to you easing your voice and concern," said Commissioner.
The Mandeville town hall meeting was one stop on the Commissioner's Divisional Tour of Manchester. The tours form part of the Commissioner's community engagement strategy, which sees him directly meeting with community stakeholders to discuss matters of national and personal security.