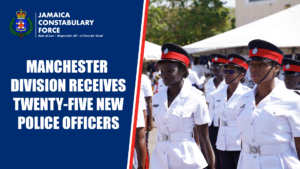 The Manchester Police Division, this week, welcomed the addition of twenty-five newly trained policemen and women who have been furnished with the means to effectively combat crime in the parish. It is a rare occurrence to have double-digit officers deployed in this division and this phenomenon is credited to vast improvement in the recruitment process.
Commissioner of Police, Major General Anderson, speaking at a town hall meeting in Manchester on Thursday March 09, speaks of the JCF's increased capacity for hiring and training officers to strengthen the crime fighting efforts of the Force. Mr. Anderson noted that over the last two years there has been a growth from about four hundred officers being trained annually to over 1200.
"We have managed to realize an increase in our ability to recruit and train officers. What it means is that overtime we have roughly recruited on an annual basis about 400-500 officers," said Commissioner Anderson. "What we recruited last year (2021) was 1250 and similarly this year (2022)," he added.
Commissioner Anderson also emphasized the importance of the regime of quality training, mentorship and leadership that these young people, with all the responsibilities that are placed on them, are able to exercise their power and authority correctly.
With more boots on the ground, Manchester will have an opportunity to offer its citizens a renewed assurance of a safe community. These officers were among a group of close to 300 constables who recently graduated from the National Police College of Jamaica (NPCJ). They have gone through several months of extensive training and mentorship and now play a key role in the transformation and modernization of the JCF.
Meanwhile, Manchester is also enroute to establishing its own Quick Response team as police within the parish are in training, getting ready to be deployed to maintain law and order. The Quick Response model of police is a highly mobile, bike-based approach to maintaining public safety in Jamaica's urban centers. The introduction of QR teams have been welcomed in St James, the Public safety and Traffic Enforcement Branch (PSTEB) and other divisions. Commissioner Anderson says, "Our responses to like some of the issues in a town centre, not just here but other places across the country where we see increases in things like robberies…has caused us to create a very agile response. That agile response is basically our quick response teams." He further stated that these teams are trained to deal with violent or possibly violent confrontations.