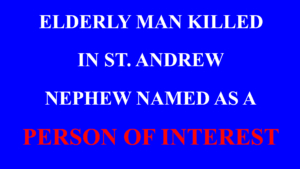 A male relative of an elderly man, whose dismembered, burnt remains were found in Cavaliers, Stony Hill, St. Andrew on Monday, June 06, has been named as a person of interest.
The dead man has been identified as 77-year-old Derrick Lindsay of Brooks Level Road, Stony Hill in the parish.
Mr. Lindsay's nephew – Samuel Waldo – has been named by the Constant Spring Police as a Person of Interest.
Reports from the Stony Hill Police are that Mr. Lindsay was reported missing on Saturday, June 04 about 8:00 p.m. Investigations led to Mr. Waldo's house where blood stains were found inside his home. The police and community members launched a search; Mr. Lindsay's dismembered, burnt remains were found in bushes in the community about 11:00 a.m.
Anyone with information that can assist the police in their investigations is asked to contact the Constant Spring Criminal Investigations Branch (CIB) at 876-924-1421, police 119 emergency or the nearest police station.
Meanwhile, Samuel Waldo is urged to turn himself in to the police immediately as efforts to contact him have been futile.