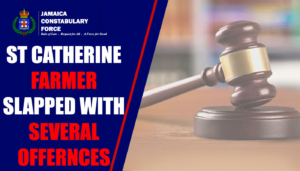 Twenty-one-year-old Jahmore Campbell, otherwise called 'Platapuss' Fisherman of East Bay, Dagger Bay, Old Harbour Bay, St. Catherine was arrested and charged following with the murder of 30-year-old Keneisha Peters in Peter Lane, Old Harbour Bay, St Catherine on Sunday, October 15.
Campbell has been charged with Murder, Shooting with Intent, Possession of a Prohibited Weapon and Unauthorized Possession of Ammunition. 
Reports are that about 11:50 p.m., Campbell and another man armed with firearms opened gunfire at Peters. She was taken to hospital where she was pronounced dead.
Campbell was arrested by the Police, where he was subsequently charged following a question-and-answer session.
His court date is being finalised.