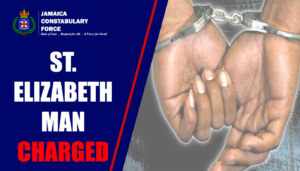 Fifty-year-old Kevin Whyte, otherwise known as 'Roofy', of Trevmar Park, Santa Cruz, St. Elizabeth was arrested and charged following an incident in Park district in the parish on Wednesday, October 4.
He is charged with Burglary and Larceny, Possession of Prohibited Weapon, Assault at Common-Law, Using a Firearm to Commit a Felony and Malicious Destruction of Property.
Reports from the Black River Police are that about 2:15 a.m., a woman was at home, when Whyte cut a hole in the zinc of one of the rooms, entered the building, and kicked the bedroom door open. He allegedly pulled a firearm, pointed it at the woman, and demanded cash. When the demands were not met, he forced the woman to open her business establishment, which is located at the front of the building. Once inside, he forced open a poker box and stole an undetermined sum of money. In addition to this, he stole J$60,900 from the cash till and a pack of cigarettes, then exited the building and made good his escape.
The woman reported the matter to the police and an investigation was launched. Whyte was identified through surveillance footage and was eventually found with some of the stolen property in his possession on the day of the incident. He was arrested and subsequently charged on Thursday, October 5.
His court date is being finalised.