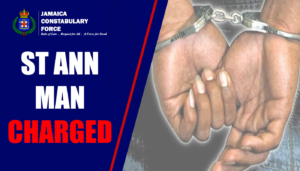 Two St. Ann men have been charged with House Breaking and Larceny following an incident on Market Street in St. Ann's Bay, St. Ann on Friday, September 29.
They are:
28-year-old Damel Johnson, otherwise called 'Chillyman', of Windsor Road and
39-year-old Courtney Smith, vendor of Windsor Heights, both in St. Ann's Bay
Reports from the St. Ann's Bay Police are that between 10:00 p.m. and 11:00 p.m., a man securely locked his house and retired to bed. He awoke the following morning, about 7:00 a.m., and realized that his house had been broken into and that items, including his cell phones and television, had been stolen.
A report was immediately made to the police, and an investigation launched. The man's cellphones were tracked and found in Smith's possession. Further investigations led the lawmen to Johnson, who handed over the stolen television and a pair of sneakers. Both men were taken into custody, and charges laid against them.
Their court dates are being arranged.