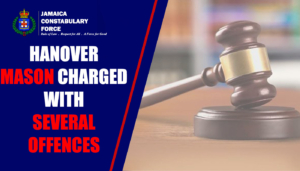 Twenty-one-year-old Calceito Smith otherwise called 'Devin', a mason of Woodchurch district, Kingsvale in Hanover has been charged with several offences following an incident in Rock Spring district in the parish on Sunday, September 17.
Smith has been charged with Possession of Prohibited Weapon, Assault at Common Law, Kidnapped at Common Law and Using a Firearm to Commit a Felony.
Reports from Kingsvale Police are that about 3:20 p.m., Smith visited the complainants' home in Rock Spring and demanded that the complainant with whom he shares an intimate relationship leave with him. When his demands were not met, he reportedly brandished a handgun and pointed it at the complainants inside their home. He then held on to the complainant's hand and forcefully took her from the house, whilst threatening to harm the complainant and her family if they contacted the police. He subsequently fled the area with the complainant in a motor car.
The Police were alerted and Smith was apprehended during an operation on Wednesday, September 27 in Montego Bay, St. James, and the complainant was found and rescued. On Friday, October 6 an identification parade was held and Smith was positively pointed out by the complainant, hence he was charged on Saturday, October 7.
His court date is being finalized.
Hanover Men Slapped with Multiple Charges – Jamaica Constabulary Force (jcf.gov.jm)